Updated: 02-05-18
***** Our 2018 RACP diary is now full and all bookings are now taken *****
2019 RACP repair/reinforcement bookings are
currently on hold.
Please email us to add yourself to our waiting list.


E46 M3 RACP Repair & Reinforcement Process - UNDERSIDE
Cost:
The Redish Motorsport RACP UNDERSIDE Repair & Reinforcement Process costs:
£1540. including VAT

The breakdown is:
£130.00 Redish V2 Reinforcement Plate Kit.
£1055.25 Labour.
£98.08 Consumables (paints, sealers, cavity wax, amongst other things).
£256.67 VAT


Process:
Firstly we protect the vehicle in key areas as per our 'Car Care' page shows here.
Then we carry out a Comprehensive Vehicle Inspection to report on the mechanical underside condition of your M3.
We will send you a video between 10-20 minutes long depending on the number of items that are wearing or could benefit from your attention whilst the rear axle and so much of the rear of the car is taken apart for this repair.
Next we remove the V-brace, complete Exhaust System, 5x Undertrays, Propshaft, Rear Wheels, 2x Heatshields, Rear Brake Metal Pipes, Battery, Boot Carpet, Boot Side Panels, Boot Polystyrene Tray, Boot Plastic Trays, Rear Bench Seat, Rear Mats, Rear Backrest Seats, Rear Sound Deadening Pad, Handbrake Cables, ABS Sensor Plugs, Pad Sensor Plugs, Rear Xenon Sensor Plug, Carbon Canister, 3x Fuel Carbon Vent Pipes, Fuel Filler Neck, Rear Anti Roll Bar, Rear Springs, Rear Shock Absorbers, Rear Trailing Arm Cradles, Complete Rear Axle using our custom-jig, Fuel Tank, 3x Fuel Breather Pipes, Fuel Pump & Level Sender Plugs, Fuel Supply & Return Pipes, Handbrake Plastic Guides, and Subframe Threaded Studs, amongst other things.
Then we degrease the entire Rear Axle Carrier Panel section, and it's overlapping panels, as well as the majority of both Rear Wheel Arches.
This is to allow us to find even the minutest of developing spot weld failure & micro cracking
(It's at this point other companies could be missing cracked spot welds)?
We now carry out our initial Damage Report which includes identifying hairline cracks around the mounting points, rear corners of the RACP, side lips, spring perches, rear panel lap joints, spot weld failures throughout all 155 spot welds.
We regularly place 4 tack welds either side of where the human eye thinks the ends of the hairline cracks are, until the heat from the tack welds expands the metal to open the hairline crack in the grain of the metal and show the true end location.
Our search continues inside the boot where we assess sound deadening & sealer condition checking for RACP pulling away from the chassis structure.
Finally our search completes by drilling 4x access holes directly above the 4x RACP internal threaded receivers (inside the car) where we send in our borescope camera to assess and picture the condition of the factory MIG welded top sections which are hidden within the closed box section.

After completing such a detailed assessment of your Rear Axle Carrier 'Subframe' Panel we will contact you if we find additional damage which is not covered by our Redish Motorsport Reinforcement Plates.
7 hours in already and we're ready to start the metal/fabrication work.
(At this stage, we've seen some companies that have welded plates over some of your cracked front mounting points and are getting ready to put sealer onto the bare metal plates).
Now we can centre punch the broken spot welds we have found, as well as centre punch the ends of the hairline cracks we have found.
Then we can stop-drill the ends of the hairline cracks to stop them propagating, as well as drilling-out the broken spot welds to allow physical contact to the joining panel.
Next we V-groove the straight hairline cracks to aid weld penetration during the repair stage.
In certain places on the front mounting points, we remove sections of the RACP outer skin to create a channel and expose the important internal threaded receiver platform.
Then on curved hairline cracks like the front mounting points, we remove sections of RACP outer skin to expose the important internal threaded receiver platform.
We now use a belt sander to remove the 2, 3, or 4 broken spot welds on the left side lip of the RACP where it connects to the wheel arch panel.
If additional cracking was identified from spot weld 3 then this is stop-drilled, and V-grooved.
Only at this stage once all the identification and damage containment has been carried out can we use a rotating wire brush to clean through Seam Sealer, E-coat, and surface corrosion to leave the metal bare. (Other companies using the wire-wheel and grinding power tools first are risking obscuring the hairline cracks so the true ends are no longer visible).
We remove all Seam Sealer, E-coat, and surface corrosion directly around and inside our Redish Motorsport Reinforcement Plate area using only wire-wheels.
We do not use flap discs or grinding discs as this thins the panel thickness, alters to metal grain, and generally weakens an already flawed structural panel design.
Additionally we remove Seam Sealer & E-coat from the inside and outside left side lip of the RACP to expose the lap joint of the RACP to the wheel arch panel.
Once the mounting points of the RACP are bare metal, we use a weld-through primer to make sure there is no bare metal behind the welded reinforcement plates.
8 hours in and we're ready to start the welding part of the crack repair process.
This job description is still being updated.
Please call for more information, or to discuss a booking.
As seen in BMW Car Magazine - July 2017
As seen in DriveTribe online feature - April 2017
As seen in Performance BMW Magazine - May 2013 issue
As seen in Total BMW Magazine - March 2012 issue
Our precision laser-cut Redish V2 reinforcement plates will then be fully welded to the RACP mounting points to strengthen the area, help contain any cracks, take away pressure from spot welds, and spread the torsional loading & unloading energy over a much greater surface area.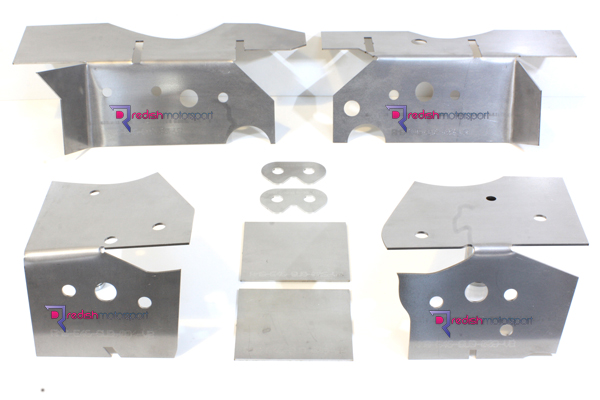 Widely regarded as the world's best E46 subframe reinforcement plate kit!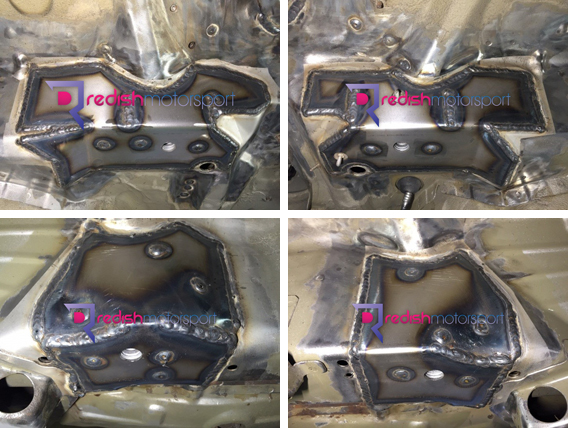 Length of repair:
For this reason, we require your vehicle to be with us for 2 weeks as we spend approx 35-40 labour hours per vehicle for the UNDERSIDE process.
What else is included?:
Our process is executed as a drive-in drive-out service.
We think of absolutely everything so you don't have to.
Your car is fully safe and ready to drive as soon as you collect it.
We carry out a Brake Fluid Change & full system bleed, 4-Wheel Digital Alignment Process for the vehicles geometry, extensive and detailed 2-3 hour cleaning process including interior and exterior using our professional in-house techniques here.
We also make sure that every vehicle has had at least a 12 mile (fully insured) road test on varying road to ensure the M3 is performing, handling, braking, and driving as good as, or ideally better than when it arrived.
Booking procedure:
If you would like to make a booking or arrange an inspection of your car, please call Katy or James in the workshop on 01179 781889 (International customers: 0044 1179 781889)
Our lead times vary throughout the year, and in extreme cases of high demand we have known to be booking ahead 6 months for this specialist E46 Subframe Repair & Reinforcement Process.
At the point of booking, we do require a £200 non-refundable deposit to secure your booking slot. This can be taken via debit/credit card over the phone with Katy or James, and your £200 deposit will be deducted from your final balance at the end of the process.
Call Katy on 01179 781889 or email on info@redish-motorsport.com to check our availability or make a booking.

Additional extras:
Some E46 M3's may require exhaust nuts & bolts, and consumable clips, bolts, and more often than not Metal Brake Pipes which are usually heavily corroded. These items are additionally charged but we will discuss this with you when your car is inspected in our workshop.
It's also worth noting that this would be the perfect time to carry out any general maintenance on suspension bushes or drive-train parts, or upgrades to performance parts which you may have been considering.
Replacing these items whilst the rear axle is out of the car can mean a saving due to reduced labour rates.
If you have your own list of parts which you've been considering replacing during this process, please feel free to let us know and we'll be happy to offer you prices.
We're also quite flexible with customers supplying their own parts (please check with us first).
Example list of parts which can be replaced during this work:
Subframe Bushes
Rear Trailing Arm Bushes
Metal Brake Pipes over axle and over fuel tank
Upper and lower Ball-joints in the Trailing arms
Diff Input Oil Seal
Diff Output Oil Seal(s)
Exhaust flanges replaced and new fixings
Braided Flexi Brake Hoses
Rear Camber Arms
Rear Suspension Coil Springs
The list goes on.......
Whatever you can think of, we can action it.
We carry almost all these items in stock, or if not in stock we can supply within 2 days.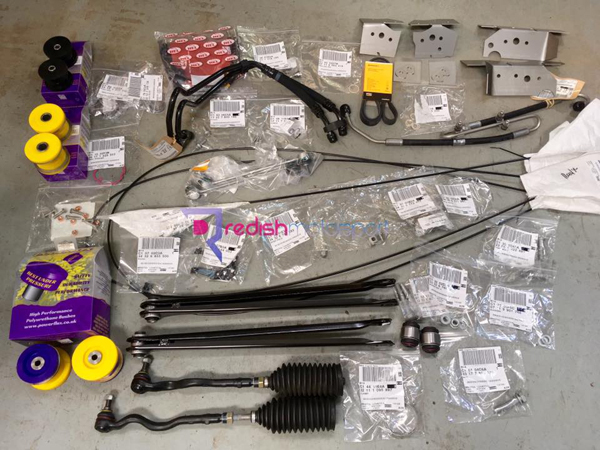 ------------------------------------------------------------------------------------------------

"Why should I consider Redish Motorsport for my E46 M3 Subframe Repair & Reinforcement Process?
Every car get's a 20 - 30 minute video documentary showing key stages of the repair.


The first company to extensively degrease your entire RACP, and surround Seat, Boot, Wheel Arch panels so not to miss any problems hidden under 10+ years worth of dirt.
It's not just the mounting points that crack you know!


The only company to offer the owner the choice to have their RACP painted in ANY colour they like. You name it, we'll paint it - all part of the price*.


*Some vehicles suffering from heavy corrosion may need additional labour to remove heavy corrosion before paints, sealers, and clear coats are will adhere.




We go further than anyone else to check the floor for not just cracks, but spot weld failures - using magnifying glasses and natural daylight LED lights.


We don't just check around the subframe mounts, we've found cracks in places you wouldn't ever imagine - we go over the car in great detail - including inside the cabin, and borescope camera checking internal cavity mounts.


We offer free* RACP underside checks for any E46, with documentation, whilst you wait.


* FOC if you car is already with us for other work.


Alternatively you can choose from 2 versions of 'RACP' inspection starting at £40.20.


Race car builders with extensive knowledge of the E36 & E46 chassis. Totally familiar with welding to and strengthening the E36 and E46 chassis with our previous Motorsport Preparation side of Redish Motorsport.


BMW Dealer based for 6 years and have extensive knowledge of the BMW marque including genuine repair procedures and RACP and body replacements at dealer bodyshops.
Real time experience rather than reading off BMW TIS.


Well known throughout the BMW community, active members on BMW forums since 2004.
Sponsor of M3cutters.co.uk and BMWowner.com, and well regarded and reviewed on M3forum.net, TotalMCars.co.uk, BMW5.co.uk, BabyBMW.net, e36coupe.com, E30zone.net, Z4-forum.net, plus many others.


Worked with, and in conjunction with, BMW Car Magazine, DriveTribe, Performance BMW Magazine, and Total BMW Magazine on a number of occasions.
We supplied pictures of our repair and reinforcement process along with a technical write up for their feature(s).


Widely regarded as one of the most experienced E46 M3 RACP crack repair and reinforcement specialist, in the world.


We've developed and produced arguably the worlds best E46 RACP reinforcement plate kit on the market.
------------------------------------------------------------------------------------------------------

And finally, take a look at our videos on our YouTube channel: