Videographer / Video Editor / Video Creater required:
We'd be interested to hear from an energetic, and budding videographer who has an interest in the Automotive Industry.
Start date: January 2021 onwards
Salary: Negotiable dependent on experience
Brief introduction:
We're seeking a Videographer to work in our busy Independent BMW Specialist workshop in Bristol. You must have knowledge in video production and video editing.
Ideal candidates would also have knowledge with the YouTube platform.
An interest in the Automotive Industry (especially BMW's) will be favoured.
An example of our work can be seen on our YouTube, Facebook, and Instagram pages below:
www.facebook.com/redishmotorsport
www.youtube.com/redishmotorsport
www.facebook.com/redishautomotive
www.instagram.net/redish_motorsport

ALL EQUIPMENT WILL BE SUPPLIED
Detailed requirements & responsibilities:
Due to continued growth and demand for our services, we are looking for help to continue growing our successful YouTube channel: Redish Motorsport. We require an enthusiastic person with a can-do attitude to work in our busy Independent BMW Specialist workshop in Bristol.
You may have years of experience, or be just starting out at student/college/university level.
Either way - we'd be interested in speaking with you.
You will be tasked with:
On site video capture of daily workshop jobs to be used for video production ranging from 5-120 minute video documentaries (to be used on YouTube).
On site video capture of daily progress updates as and when required to send to customers.
On site video capture of company project builds.
On site video capture of James Redish explaining and navigating certain workshop jobs.
On site video editing (including thumbnails, titles, descriptions, meta data tags etc).
On site video editing of old historic back-catalog videos to produce complete documentaries.
Off site video capture of customers cars before/after project work carried out.
Off site video capture of company vehicles/projects before/during/after work carried out.
Off site video capture of 'rolling' shots of our vehicles on public or closed roads.
Off site video capture of our cars during Track Days at race circuits.
Off site video capture of our race cars competing on circuit (weekends away available).
On site video capture of customer testimonials upon collecting their completed car.
You will need to have some understanding of vehicular components and layout.
Technical would be advantageous, but not essential.
At times, you will be required to speak/narrate whilst filming.
Training will be provided.
Ideal candidates will also have an understanding of additional Social Media platforms like Facebook/Instagram.
Some of your video content will end up being used on our Social Media platforms and therefore understanding how to post/title/description it correctly will be beneficial.

When shooting a video documentary which may last 60-120 minutes and be made up of 30x different short clips shot over the course of 3 weeks; you should be able to visualise your goal before it's been shot, and then reach that goal during editing.
You will also (additional to semi-pro equipment) be issued with an Apple iPhone SE (as per all staff) and need to take several digital pictures of the general work you carry out each day (training will be provided).



General notes:
Our customers travel from all over the UK (and even some from Europe) for our services which is a testament to the quality of work which we are known for.

You will be working with a close-knit team of like minded car enthusiasts who have a passion for BMW vehicles and all drive various BMW models (mainly M Power).
You will ideally have your own transport (this is not essential, but it would help).
If you have a vehicle and are keen on it's upkeep, maintenance, performance and/or upgrades that would help us understand your interest in the Automotive Industry.
You will need to be able to follow instructions well and execute your work to a very high standard. Our reputation has been built on attention-to-detail and customer service to match, so you need to excel in these areas.
You need to be able to organise your time well and make sure you don't miss pre-planned opportunities to capture video content 'as it happens' in the workshop.
You will be working in a very clean, modern, bright environment and be situated in an office where the planning and editing will be carried out.
You will also work in our workshop to capture video content on a daily basis.
Our workshop has ultra clean floor and bright white walls. Cleanliness is essential to our business and therefore our high standard must be maintained at all times.

1 of our 4 bays: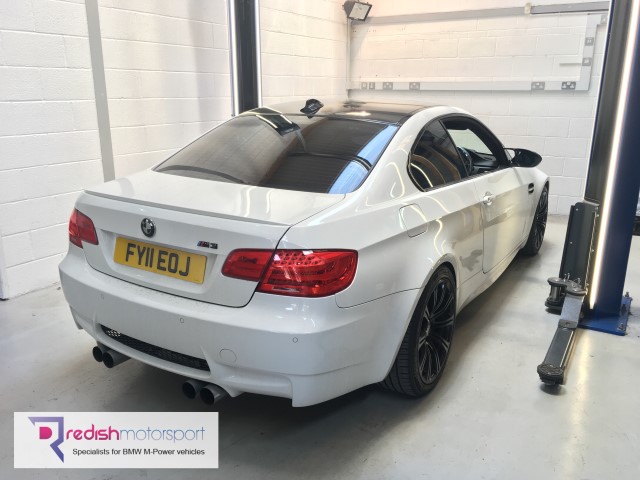 You must be able to stick to time deadlines, keep a clean and safe working environment, communicate well with the team, have a good grasp of the English language, and be approachable & adaptable to change.
Social Media specialists (including students) will be considered for this role too.
Benefits:
In exchange for your services we will provide a monthly salary.
Bonus potential (to be discussed).
28 days holiday per year (20 standard days and 8 bank holidays).
A government backed pension scheme.
Personal injury protection/insurance.
Possible overtime & Saturday work availability (TBC).
Use of the workshop and lifts to carry out work to your own vehicle.
The ability to purchase parts at cost-price for your own vehicle.
Potential to be involved with our Trackday/Raceday programme.
Bi-monthly staff reward events.
End notes:
Don't worry if you only fit some of the criteria, but not all, please still send us your CV as we will still be interested to hear from you.
How to apply:
Please send your CV and a brief covering letter by email to james@redish-motorsport.com or by post to Redish Motorsport Ltd, FAO James Redish, Units 3-4 Lynwood Court, Cater Road, Bishopsworth, Bristol, BS13 7TT.
Alternatively you're always welcome to call us on 01179 781889 or by dropping in to our workshops at the address above.