Jobs - Updated 10-05-20
BMW Technician required:
Start date:
1st July 2020 onwards
Salary: Negotiable dependent on experience (* see below)

Brief introduction:
We are seeking a BMW Technician to work in our busy Independent BMW Specialist workshop in Bristol. You must have a background in vehicle service/repair/maintenance/upgrades, and also have a keen interest in the BMW brand of vehicles.
We're looking to attract a BMW-Main-Dealer-experienced candidate, or alternatively someone who has worked for an Independent Specialist.

Detailed requirements & responsibilities:
Due to continued growth and demand for our services, we are looking to expand our workshop capabilities. We require an enthusiastic person with a can-do attitude to work in our busy Independent BMW Specialist workshop in Bristol.

You will be tasked with carrying out factory identical services following BMW's Condition Based Servicing schedule and will use software like BMW KeyReader Plus, BMW KASIO, BMW AOS, BMW ISTA to help you complete those jobs professionally, as well as update the BMW Central Service Database and BMW Digital Service Books in the vehicle (training will be provided).

You will also be issued with an Apple iPhone (as per all staff) and need to take several digital pictures of new parts you install as well as the general work you carry out each day (training will be provided).

You will also be required to carry out repairs and routine maintenance of BMW vehicles by following BMW ISTA technical instructions, and using BMW Special Tools.
Another key area of our expertise is the specialist procedures we offer to BMW M Power vehicles like Conrod Bearing replacements, Vanos Overhauls, SMG & DCT repairs, RACP Reinforcements, Headgasket replacements, as well as carrying out all manner of performance upgrades (training will be provided).
Our customers travel from all over the UK (and even some from Europe) for our services which is a testament to the quality of work which we are known for.

You will be working with a close-knit team of like minded car enthusiasts who have a passion for BMW vehicles and all drive various BMW models (mainly M Power).

You are likely to have an interest in the BMW brand in general.
You really do need to enjoy working with BMW vehicles to work with Redish and it's become a mandatory requirement over the years.
Ideally drive/own a BMW and be interested in it's up keep, maintenance, improvements (this is not essential, but it would help).
You will need to be able to follow instructions well and execute your work to a very high standard. Our reputation has been built on attention-to-detail workmanship and customer service to match so you need to excel in these areas.
You will be working in a very clean, modern, bright workshop with ultra clean floor and bright white walls. Cleanliness is essential to our business and therefore our high standard must be maintained at all times.
You will be working in a customer-visible location and also using the latest in German (Maha) base-less lifts which are approx 1 year old and are fitted with full height vertical LED lights.
1 of our 4 bays: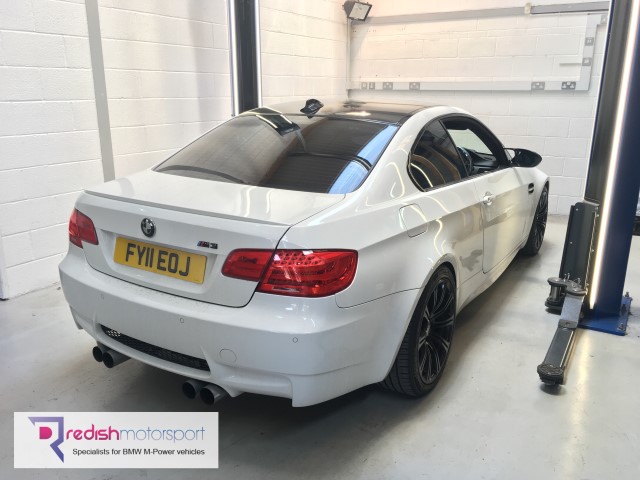 You must be able to stick to time deadlines, keep a clean and safe working environment, communicate well with the team, have a good grasp of the English language, be approachable, and be able to speak to customers in a professional and technical way when required.
You will be expected to provide your own tool box and workshop hand tools (we will make all other tools available).
(BMW Mini Technicians will also be considered for this role).
Benefits:
In exchange for your services we will provide a * competitive salary matching or improving on BMW Main Dealer rates (if applicable, and dependent on experience).
28 days holiday per year (20 standard days and 8 bank holidays).
A government backed pension scheme.
Personal injury protection/insurance.
Overtime & Saturday work availability.
Use of the workshop and lifts to carry out work to your own vehicle.
The ability to purchase parts at cost-price for your own vehicle.
Potential to be involved with our Trackday/Raceday programme.
Staff events as and when applicable.
End notes:
Don't worry if you only fit some of the criteria, but not all, please still send us your CV as we will still be interested to hear from you.
How to apply:
Please send your CV and a brief covering letter by email to james@redish-motorsport.com or by post to Redish Motorsport Ltd, FAO James Redish, Units 3-4 Lynwood Court, Cater Road, Bishopsworth, Bristol, BS13 7TT.
Alternatively you're always welcome to call us on 01179 781889 or by dropping in to our workshops at the address above.