At Redish Motorsport, your car is our number one priority.
As well as our top level workmanship when working on your vehicle, we have an exquisite eye for detail when it comes to protecting your vehicle whilst it's in our care.
Our entire team are passionate car enthusiasts at heart, and we really do protect your vehicle as if it was one of our own.
Many companies claim this, but here you see first hand example of the attention to detail we apply to every vehicle which comes through our workshop.
Every single vehicle - without fail - receives a NEW premium seat cover, double size anti static floor mat, as well as our unique steering wheel protection covers:
Depending on what your vehicle is having carried out, we may have to protect 'high traffic' areas from us entering/exiting the vehicle.
This is done with quality 3M energy-absorbing professional tapes:
In cases of unknown/questionable paint quality, or where there is risk of fluid transfer over wings & bumpers etc, a special low-tac protection tape is applied for the exterior body protection.
If the repair requires us to be moving inside your vehicle regularly, again we will protect what we know to be 'high traffic' areas with specialist tapes as above
Or if the repair requires part or all of the interior to be removed, we continue our protection to the items removed by bubble wrapping interior front & rear seats/leather items, bagging & labelling individual small pieces of trim or fixings, boxing medium sized plastic pieces like boot trays, centre consoles etc.
Then your items are always removed away from the vehicle and workshop floor.
We logically store your protected items in our custom built mezzanine racking system
All parts are assigned a shelf (or shelves), which are clearly labelled to avoid mix up.
A picture record of parts layout & location occurs to aid quality control checks.
Our dry storage solution for customer's car's products is clean, dry, light, logistically sensible, away from atmosphere damage.
Most repairs require your Alloy Wheels & Tyres to be removed from the car.
Alloy wheels are treated with as much care as you would expect.
They are individually wrapped in genuine BMW 'Wheel Bags', taped shut, and stored in our custom build dry wheel/tyre rack storage locations.
EXTERIOR
When it comes to the exterior bodywork of painted surfaces and glass, we are just as vigilant in our quest to protect each car as much as possible
If the inevitable happens and a bird decides to defecate on your paintwork, we will notice this as we do a daily check of such things, and the problem is washed off as soon as it's noticed. Such a simple thing, but if you're as serious about paint finish as we are you'll be fully aware of the issue in question.
Here at Redish Motorsport James is in control of vehicle exterior cleanliness.
Depending how long your car is with us it may be that we have to clean the exterior of your vehicle before we hand it over to you.
This is for many reasons, ranging from natural atmosphere fall out which lands on every car in the world, excessive dust, salt or sahara dust collection (depending on time of year), or because we just want you to receive it back in the same (or hopefully) better condition than when it arrived.
Over the years we have tried various different cleaning products and brands for specific areas of the vehicle. We've come up with what we regard as a specialist collection of cleaning equipment and products from some of the worlds most recognised brands.
Almost all our cleaning equipment is from specialist detailing manufacturers and normally not seen on the high street.
All our equipment & product is kept in clean, labelled, and covered environment in new storage systems which have full top & side protection from environment fall out.
Regular stock checks are carried out and top up orders processed to ensure we always have stock of our chosen specialist detailing products & equipment.
For example, we do not wash microfibre towels and instead throw them away after every individual use to eliminate cross-contamination. We have sectioned storage containers for separate jobs so wheel brushes don't end up mixing with dash dusting brushes for example.
We replace the waffle-weave drying towels on average every 3-4 cars.
We replace the lambs-wool wash mitt every 5-6 cars.
Just some of the stock or detailing/cleaning equipment & products we have:
Picture to be uploaded.....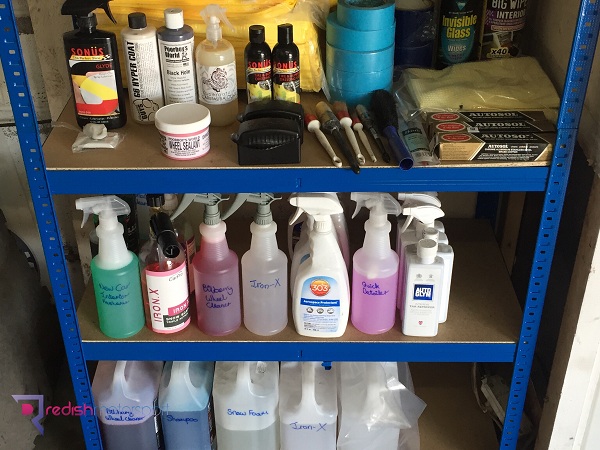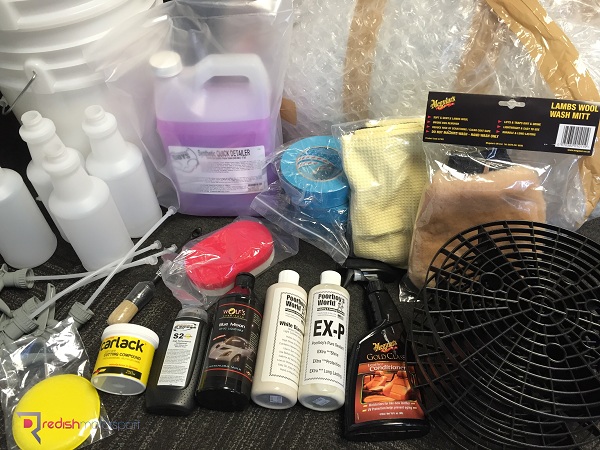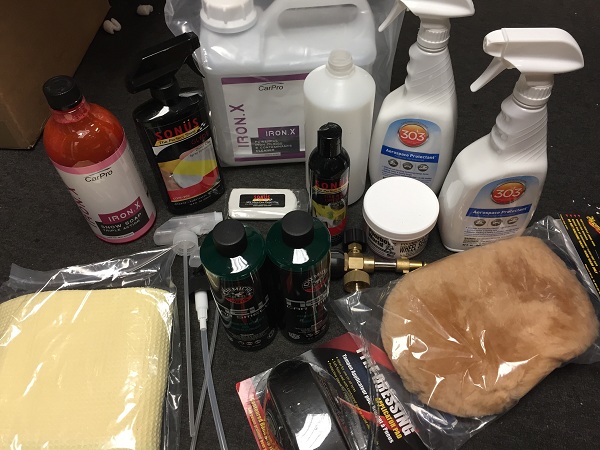 More details and pictures to follow......