Welcome to Redish Motorsport
Home of the famous BMW E46
V3 RACP Reinforcement Plate Kit
Click here for our genuine Redish E46 V3 RACP Reinforcement Plates

01-02-23:
Apologies if you haven't been able to reach us on the phone in January so far.
We're carrying out essential building maintenance during an expansion into a 3rd (additional) building next door. This means there has been much less time available to answer incoming calls. Thanks for your patience whilst we are still expanding, and we look forward to speaking with you soon.
We're currently prioritising WHATS APP messages.
Please feel free to send us a Whats App message on 07928 345724 and we'll do our best to reply to your enquiry with a Voice Note.
Thank you for your understanding,
James Redish.
Redish Motorsport is an i
ndependent specialist company
who offer
high-end professional procedures for BMW M-Power & Alpina vehicles.
Regularly regarded as one of the UK's premier specialists for BMW vehicles, we pride ourselves on outstanding customer service, unique proven procedures, and great competitive prices.
Please browse the links at the top of the page to see the processes we can offer for your BMW
We look forward to working with you, and your BMW.


James & Katy Redish, Simon, Luke, Dave, Darren, and Noah.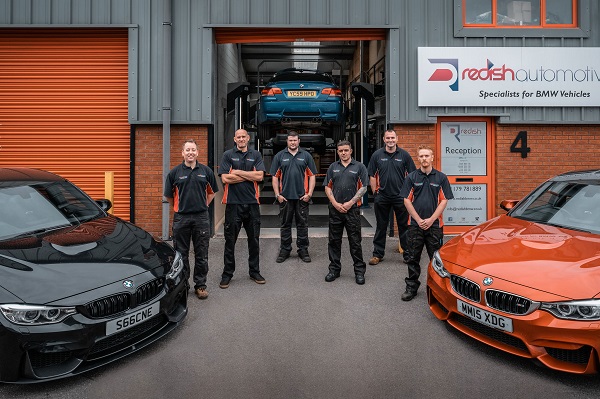 Summer 2020: