Redish Motorsport E46 V3 RACP Reinforcement Plate Kit
*** V3 has arrived! ***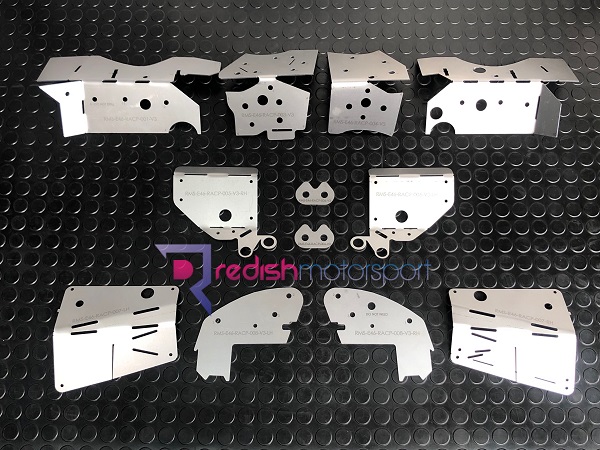 Inside UK - £180 delivered 2-3 days typical transit time
Outside UK - £180 delivered 4-8 days typical transit time
(Need it in a hurry? No problem - just contact us and we'll act immediately).
To make a purchase:
Please use our PayPal Button above
(you MUST add your local telephone number in the text bar otherwise the courier UPS will not accept your package).


----------------------------------------------

V3 FAQ
(currently 32 questions answered as of November 2022):
1. Why did you create a V3 kit?
'V3' is designed to offer a middle-option between using just underside plates alone, and using underside plates with an internal brace system.
2. I thought there were just plates or braces, what do you mean by middle option?
Up until now, it's either been plates alone, or plates with braces.
Our V3 kit acts as a simple but effective 'load-relief' system for the RACP.
3. How does your V3 kit act as a 'load-relief' system?
Currently, the RACP is spot welded to the underside of the chassis with mainly perimeter connections and no structural contact to critical components like chassis legs.
Our '008LH' & '008RH' plates from our V3 kit positively connect the RACP to the chassis legs and therefore relieve load from the RACP.
4. Isn't this similar to what a brace does?
Yes, but without the cost of having to purchase a bolt in or weld in brace system.
It offers a similar effect which is more than adequate for 95% of E46 owners and usage.
5. What about the other 5% of E46 owners you don't mention?
For the small number of E46's which are either heavily cracked, or are put through serious stress like circuit/strip/competition use we would then recommend adding a brace.
6. What comes in your new V3 kit?
V3 has a total of 12 plates.
6 are redesigned and improved.
2 are the same.
4 are brand new developments for the INTERNAL RACP sections inside the vehicle.
7. What extra work do I have to do to fit a V3 kit over a V2 kit?
The underside process is exactly the same.
The new work is inside the vehicle under the Boot/Trunk Floor and Rear Seat Panel.
In basic terms, you must cut access windows in the Boot/Trunk and Rear Seat Panel to access the broken spot welds and cracks on the INTERNAL RACP sections.
8. But why should I use a Redish V3 kit and cut the Boot/Trunk Floor open in the corners?
Now-a-days the majority of E46 M3's we inspect have some form of cracks and spot weld failure inside the vehicle known as the INTERNAL RACP.
This hidden danger requires the vehicles Boot/Trunk and Rear Seat Panels to but cut open to access and repair these problems.
So, if you're already opening up these areas to repair them, you might as well add a simple load-relief system (2 simple plates to weld to the Chassis Legs) and cover your cut areas with laser cut Redish V3 Reinforcement Plates to tidy the area once finished.
9. Do you supply instructions for the new V3 kit?
We supply a 44-page colour printed instruction manual (words & pictures by James Redish) which walks you through the entire process using 10 years worth of solid RACP experience.
10. Can I get a digital version of your instructions?
Unfortunately, we do not supply digital versions of our instructions.
We tried this with our V2 kit instructions but the file was leaked to competitors who soon used it as their own instructions to create 'copy kits' of the Redish Motorsport product.
We have spent over 80 hours compiling our extensive V3 instructions and we only send them in printed paper format inside the package of V3 plates.
We aren't able to send a digital file ahead of your purchase for you or your installer to study.
This may sound harsh but we're very proud of our work and our knowledge and we have become frustrated with competitors 'copying' our kits so we must keep our IP close.
This also means we only provide our V3 instructions in English.
There may be apps you can download on your smartphone to 'change the language'.

11. Can I get your instructions printed in a different language?
I'm afraid we only offer our paper printed instructions in English.
However, at our last count there were over 83 images included in our printed instructions.
12. Can we explain the benefit of your V3 kit again, in a slightly different way?
Currently, the E46 RACP is relying on OEM factory spot welds to hold it to the underside of the chassis. During acceleration the left rear Subframe Mount is trying (and succeeding) to pull the RACP off the chassis.
By welding in our '008LH' & '008RH' plates (which come in the V3 kit) you are connecting the RACP to the chassis legs which means the RACP is no longer reliant on inferior spot welds alone.
13. Are there any benefits to installing the improved UNDERSIDE plates?
Yes, our slightly improved Underside Plates (001, 002, 003, 004) have approx 12-18 laser-etched numbers on each of them to indicate which areas to weld first.
This process helps a first-timer to install the Underside Plates as the numbers act as an instruction - which is outlined in the printed instruction manual we provide with each kit.
14. Others are saying braces are the ultimate answer. Who should I listen to?
For 95% of E46's that we've seen, inspected (800+), and repaired (260+) our experience shows that even just Underside Plates are adequate. Therefore, even though braces are an excellent addition, they do cost addition money to purchase as well as addition labour cost to install.

15. What are the example cost differences with a V3 kit installation and brace installations?
V3 Plate Kit £170 + labour.
Bolt in Brace £600 + labour.
Weld in Brace £400 + labour.
(These are example prices and may differ depending on Brace and installer).
16. Are you trying to temp people away from Braces?
No, not at all.
We're just giving people another option if they don't feel they want/need a brace, or don't want the additional costs associated with a Brace.
17. Are you against Braces?
No, not at all.
In fact, we stock, sell, and install the excellent SME Braces if/when needed.
We've tried lots of braces designs from the 5 main suppliers, as well as created our own in 2016, but still opt for an SME Brace out of all of them, but ONLY IF the situation warrants it.
You can even buy SME Braces directly from us as we keep multiples of both the Bolt in and Weld in on our shelves in the UK ready for immediate despatch.
Just call us if this is the case.
18. Are there downsides to installing a Brace?
Unfortunately, there are.
In all but 1 of the main 5 Brace suppliers' instructions do not show the fact that the majority of E46's will have broken spot welds and even cracks in the INTERNAL RACP sections.
Therefore installing just a Brace alone and following their instructions means cracks and broken spot welds remain active and continue to grow, albeit at a slower rate.
19. How do you know this?
We've seen it in person, as well as studying the Brace suppliers written instructions and installation pictures over the years.
20. Explain why the majority of Braces miss obvious broken spot welds and cracks.
A Bolt in Brace only requires 2 holes drilled in the Boot/Trunk floor panel to drop the Bolt in Brace onto the RACP. With just 2 holes drilled directly above the RACP threaded receivers you cannot see the 3 extremely common failed spot welds and crack locations all on the left rear INTERNAL upper & lower sections of the RACP (as they are still hidden by the Boot/Trunk floor panel remaining in place).
A Weld in Brace requires some of the Boot/Trunk floor panel to be cut away but commonly not enough to locate these 3 extremely common failed spot welds and crack locations all on the left rear INTERNAL upper & lower sections of the RACP.
21. How come your V3 kit addresses these 3 extremely common left rear INTERNAL issues?
Well, the V3 kit itself doesn't, but our knowledge which we provide in our 44 page instructions does. As well as our V3 kit '007LH' & '007RH' plates allowing proper access to these troubled areas.
22. Can I install your new V3 kit in conjunction with a brace?
Yes, this has been tested and is no problem.
Our V3 '008LH' & '008RH' plates will work fine and your won't need to use our '007LH' & '007RH' plates.
23. Will you still sell a Redish V2 kit?
No, we've discontinued our V2 kit and now only supply our new V3 kit.
24. Why is the V3 kit more expensive than the V2 kit?
The V3 kit now has 12 plates whereas the V2 kits had only 8 plates.
Therefore more material usage, not to mention the countless hours on design, prototyping, and testing. We've kept the increase the the bare minimum.
25. Can you ship to any country and is it still just £170 GBP?
Technically yes we can.
We despatch approx 5-8 Redish RACP Plate Kits per week with UPS to all worldwide destinations on 6 continents.
As long as your country doesn't have any restrictions with our courier UPS then we can ship to you for £170 GBP all in (which includes the shipping costs).
26. Can I purchase the 'extra' plates to upgrade my V1/V2 to a V3 kit?
Yes you can.
If you can provide us with evidence of your V1/V2 kit purchase direct from Redish, we'll be able to sell you the 6 extra plates (005LH, 005RH, 007LH, 007RH, 008LH, 008RH) with an instruction pack to allow you to deal with the INTERNAL RACP work and create a 'load-relief' system. Just remember that to weld these extra 6 new plates in it will burn off some of your underseal underneath your RACP and you'll need to touch this up. Also, you must remove your fuel tank before any welding can commence - especially for the 005LH & 005RH plates.
Email us on info (at) redish - motorsport . com
27. Do you sell to trade installers and distributors?
Yes, just email us from your business email account providing a brief background and your intensions and we can discuss trade purchases.
We offer trade discounts on 1,2,5,10 kits.
The more kits you purchase the most cost effective they become.
28. Do you list authorised installers and distributors?
Yes, we're working on a list which will be for any country outside of the UK/Ireland and will add it to this page in the near future.
29. Do you offer Group Buys?
Yes, but it has to be dealt with by just 1 purchaser.
That means 1 single payment for all kits.
As well as 1 shipment to that purchasers (who then would have to distribute to each individual).
30. Will you release a new updated video to show installation tips and example finishes?
Yes, we're compiling a new V3 video as we speak which will be listed below shortly.
Until then, our old V2 video is still shown below so you get an idea of how the 4 Underside Plates look and fit.

31. Will the Redish V3 kit work with a non M3? *** NEW ***
Yes, our V3 kit works on 316i right up to M3.

32. What body shapes does the V3 kit work on? *** NEW ***
We've tested it on Coupe, Convertible, Touring, Saloon, and Compact.
The underside is all the same.
The internal sections have minor differences but still works well.


---------------------------------------

Check all our recent worldwide sales here on our Instagram page:
www.instagram.com/redish_motorsport
-----------------------------------------

If you have any questions please email info (at) redish - motorsport . com with the following details, and then your question:
Full name
Delivery address including country
Zip/Post code
Local Phone Number
Exact Model of E46 including production year
We ship to worldwide destinations daily using UPS.
Buy from Redish Motorsport and you'll be sure to receive a genuine Redish Motorsport E46 V3 RACP Reinforcement Plate Kit with the RMS part numbers laser etched.
PLEASE NOTE:
We do NOT sell our Redish Motorsport kits via eBay.
The ONLY way to buy a Genuine Redish Motorsport Kit is here via our website.
If you have any doubt to a Genuine Redish Motorsport Kit please feel free to contact us on info@redish-motorsport.com and we'll be happy to help you.
"I don't care that they stole my idea ...... I care that they don't have any of their own"
Nikola Tesla


-------------------------------------------

Buying direct from us the original manufacturer (us) ensures you receive a genuine Redish kit.
Redish Motorsport has developed a kit to offer a cost effective long term solution to the well-documented problem of Rear Axle Carrier Panel (RACP) cracking which the BMW E46 3-series (and M3) suffers from.

The Redish Motorsport E46 V3 RACP Reinforcement Plate Kit has been designed to provide the best repair and reinforcement option (apart from a new Rear Axle Carrier Panel from BMW) available on the market to date, regardless of crack damage*, age, mileage, service history, or modifications made.
Our kits have been installed consistently in our workshop since 2012 (9 years now), and out in the public domain and purchased and loved worldwide.
Fitment feedback has been 100% positive with great reviews from customer and other workshops using our precision made reinforcement plate kit.
Our E46 reinforcement plate kits are purchased by owners, repair workshops/garages, bodyshops, chassis builders, and even BMW approved bodyshops.
We are proud to state that our kits are sold worldwide, and have been sent to 6 of the 7 continents (North America, South America, Europe, Asia, Africa, and Australasia).
Some of the popular countries / sates include:
North America:
Virginia
New Mexico
Texas
Oregon
California
Colorado
Illinois
Pennsylvania
Hawaii
South Carolina
New York
Washington
Massachusetts
Oklahoma
Canada
Europe:
UK mainland
Ireland
Spain
Italy
Belgium
Belarus
Portugal
Norway
Asia:
Dubai - United Arab Emirates
Cyprus
Turkey
Africa:
Australasia:
Adelaide - South Australia
Melbourne - Victoria
Sydney - New South Wales
Brisbane - Queensland
Auckland - New Zealand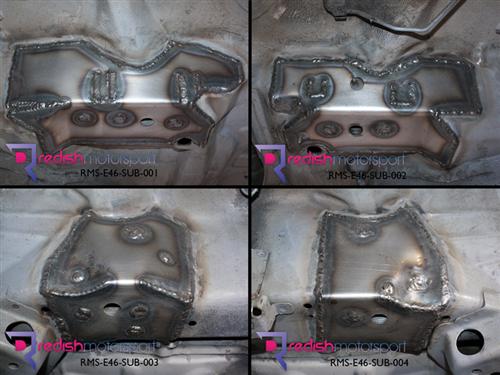 --------------------------------------------------------------------------------------------------------------------
What's included?
12 piece Reinforcement Plate Kit - all part numbered and tailored for the E46 chassis.
Instructions - 40 pages, pictures, masses of text and pictures, torque settings.
Hand check of every plate on our genuine BMW Rear Axle Carrier Panel before ship.
Personal service from Redish Motorsport, email contact, support, live tracking details.
Installation support (should you or your installer have any questions) phone or email.
--------------------------------------------------------------------------------------------------------------------

Here's a recent HD video on YouTube showing our old V2 reinforcement plate kit:
(Shortly to be replaced with our new upcoming V3 video).
------------------------------------
Development History:
Redish Motorsport have been repairing and reinforcing BMW RACP's for years now.
It started with the E36 where we completely rebuilt the OSF rear subframe threaded mount after it was quite literally torn out of the floor pan on a 1992 325i.
Since then we've been mainly repairing & reinforcing E46 M3's (although we still get 323/325/328/330 models in for repair).
One day (back in 2011) we were faced with repairing this 2001 M3 manual coupe with 72,000 miles!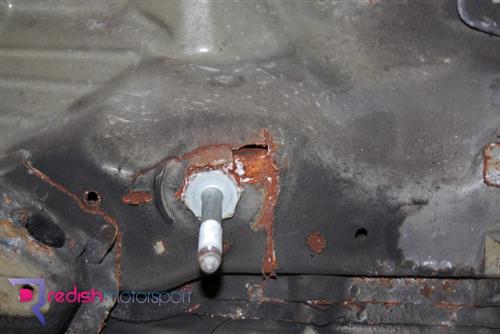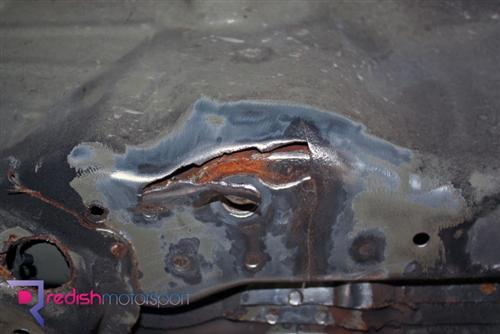 Up until then, we were using reinforcement plates from the USA (like everyone else was).
As you can see, they didn't cover the damage on this M3: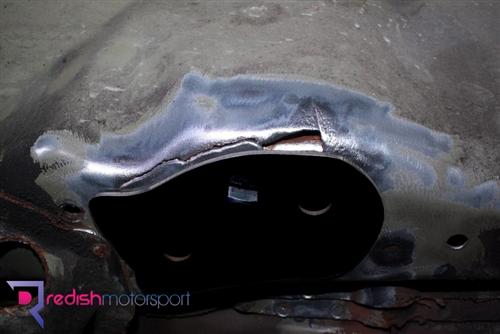 Nor did the NSR plate cover the hairline crack on this car (outlined in red):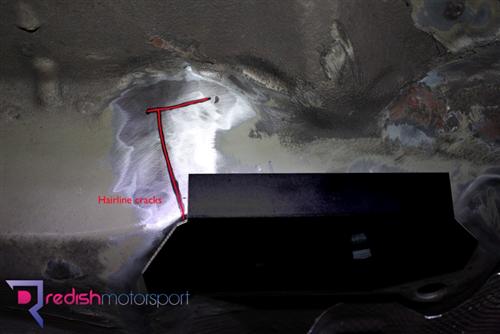 So in 2012 we set about designing and producing our own reinforcement plate kit for cars like this one with moderate damage/cracking.
We purchased brand new RACP's (Rear Axle Carrier Panel - 41.11.8.000.246) from BMW and carried out drawing, templates, CAD models, laser cut prototype plates, stress analysis, engineering consultancy, and 3 incarnations spanned several months work to perfect our Redish Reinforcement Plate Kit you see today: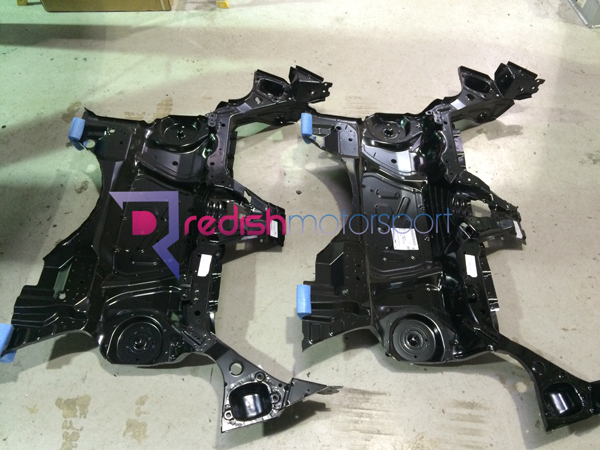 Product testing started in house with the introduction of our Redish Reinforcement Plate Kit to our popular Repair & Reinforcement Service - featured in Performance BMW Magazine (May 2013 issue). and DriveTribe April 2017.
We then selected 2 close and trusted workshops to test our kit and give us some 'outside' feedback. Needless to say, they were greatly surprised with our accuracy achieved not only in the line up of all holes for stud mounting and plug welding but also the folding process.
Since then they've been sold to customers all over the world and over 1200 Redish RACP Plate Kits have been sold worldwide with another 260+ fitted in our workshop in the UK.


--------------------------------

The Redish Motorsport E46 V3 RACP Reinforcement Plate Kit consists of 12 individual plates, part numbered and tailored to specific locations on the E46's chassis:
RMS-E46-RACP-001-V3
Qty.1
Located at the NSR RACP mounting location.
This is the most problematic location and the area where most cracks and even material separation is found.
RMS-E46-RACP-002-V3
Qty.1
Designed specifically to follow the contours of the OSR RACP location.
RMS-E46-RACP-003-V3
Qty.1
For use at the OSF RACP mounting location.
This is the other major problem area on the RACP and where cracking is again most common.
This plate has been designed to dramatically strengthen the OSF location face, spreading the torque loading and unloading over a far greater area, of a stronger material to the original RACP.
RMS-E46-RACP-004-V3
Qty.1
Tailored to fit the NSF RACP mounting location.
RMS-E46-RACP-005LH-V3
Qty.1
For covering the access window you'll cut out of your Rear Seat Panel left hand side.
RMS-E46-RACP-005LH-V3
Qty.1
For covering the access window you'll cut out of your Rear Seat Panel right hand side.
RMS-E46-RACP-006-V3
Qty.2
Spacer plates for adding to the underside Handbrake Console to equally space the 'Pushrod' (33.31.2.229.295) during the rebuild of the rear axle assembly at rebuild stage.
They are not a structural part (just a spacer) and therefore can be bonded or welded in place.
RMS-E46-RACP-007LH-V3
Qty.1
For covering the access window you'll cut out of your Boot/Trunk Panel left hand side.
RMS-E46-RACP-007RH-V3
Qty.1
For covering the access window you'll cut out of your Boot/Trunk Panel right hand side.
RMS-E46-RACP-008LH-V3
Qty.1
'Load-relief' plate for welding to the Chassis Leg and RACP left hand side.

RMS-E46-RACP-008RH-V3
Qty.1
'Load-relief' plate for welding to the Chassis Leg and RACP right hand side.