Overview
Redish Motorsport Ltd are specialists for BMW M-Power & Alpina vehicles.
We focus on several key areas of the BMW car - especially the Chassis and Engine.
Currently our most popular specialist work is related to the BMW M3, M5, and M6.
Use the Vehicle Models at the top of the page to see our individual speciality jobs.
Facility

Redish Motorsport operate from a modern, clean, and light, workshop in Bristol, UK.
We have 4x internal vehicle work bays all using Maha vehicle lifts.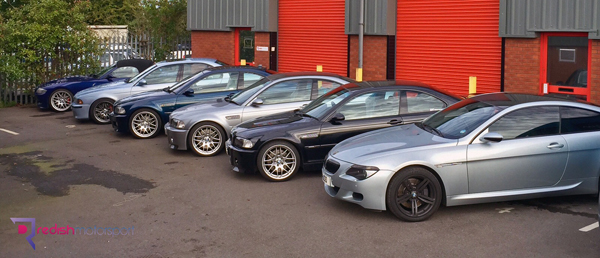 Redish Motorsport was a dream of owner James Redish's as early as 2003 whilst working for a BMW main dealer from 2001 to 2006 - where his love for the BMW brand was established.
After that, he worked for a local 'Specialist-for-BMW-vehicles' which he helped grow and expand into an established Service & Repair centre for BMW vehicles during 2006-2009.
After planning his business during 2008, James opened Redish Motorsport in 2009 and hasn't looked back since!

In 2009 the company was incorporated and became Redish Motorsport Ltd.

In 2010 the company moved from it's humble beginnings in a small unit, to it's current modern, almost-new, workshop facility in south Bristol.
In 2012 we took on our newest employee Luke who brought a whole new fresh skill set to the business and has grown to be admired for his conscientious work ethics and extreme care & attention by our customers. Luke is our lead M-technician and takes a Vanos rebuild, Conrod Bearing replacement, and various other detailed work, in his stride. Luke also helps take care of customer handovers and technical explanations when a customer collects their vehicle.
Luke is a highly skilled technician, and a hugely valued member of the team.
In 2013 our associated company Redish Automotive (BMW Servicing & Repairs) was born and brand identity created.
In 2014 we expanded into another workshop next door and the Redish Automotive brand was launched from it's own workshop offering customer-focused Independent BMW Specialist services like Servicing & Repair & Routine Maintenance for everyday BMW owners
In 2014 BMW Group AG, recognised Redish Automotive as an Independent Dealership for the use of internal computer data (updating 2010> BMW's with Online Service Books), and issued us with a unique dealership number: 50024567.
In June 2015 we took on another staff member: Katy, who is our Receptionist & Office Administrator. Katy brings us her strong Administration background and hugely organised approach to office duties. James still enjoys playing a large part in customer interaction by personally dealing with many customers at 'handover' stage, but Katy is the key link between the 4x workshop technicians and the customer's requests. As well as; organising James' day around customer demand for his time, processing our unique Digital Picture Diary we offer, answering Emails, progressing workshop flow, answering phone calls, preparing invoices, compiling price estimates, amongst other things.
In November 2017 we took on another new employee: James Pingstone. (Yes another James just to confuse things)! James Pingstone is our Service Manager and runs the reception side of the business. He comes from a customer-service background and is also a passionate BMW M-Power owner for the past 15 years. Not only does he have 2x E34 M5 LE (1 of 50), but also a tidy E39 M5, AND an E90 M3. So he's a BMW M-power nut just like the rest of us.
He's well places to not only offer the customer service we base our business on, but also the technical side of our repair procedures too. James Pingstone is the key link between the customers and the workshop technicians and keeps things running smoothly and offers a high level of customer satisfaction with picture/video updates and regular communication.
In November 2017 baby Zac Redish was born to first time parents James and Katy Redish.
Zac is obviously far too young to be employed full time, yet. But we have his uniform ready, and hopefully he'll be in the workshop soon!
In June 2018 we improved our vehicle lifts and purchased 2x brand new Maha 2-post lifts (BMW approved supplier) which keeps us in line with all health and safety regulation, insurance stipulations, and takes the total number of Maha vehicle lifts to 4 in our workshops.
2019 was another busy year for us as we sourced 2 further specialist staff members (to increase to a team of 6).
First was Automotive Restoration Technician Dave who has been in the automotive industry for over 20 years and many of those spent as a Restoration Technician and Vehicle Painter.
Dave brings an excellent set of fabrication and paint skills to the Redish Motorsport team which helps us continue to offer world-class procedures and finishes on all BMW Restoration projects as well as our famous E46 RACP work.
Next up was Darren who has worked as a Vehicle Technician for several main dealerships including Wellsway BMW, Dick Lovett BMW, and another BMW Independent Specialist - so it's safe to say Darren is a key link in our BMW Specialist Workshop.
Darren has worked in Brunei looking after just some of the Sultan's amazing collection, and now back in the UK brings an excellent skill set and a technical mind to our business.
From complex engine rebuilds on S63, S65, S85, S54, right down to basic servicing requirements - Darren has an excellent attention to detail and is a valued member of our team.
Late 2019 also brought another addition to the Redish tride in the form of Baby Ted who follows in his Baby Brother Zac's footsteps and shows promising signs with a spanner & screwdriver.
2020 started as our busiest and best year to date.
We invested heavily in the business again with new assets for the workshop like 2x new Maha STAR Lifts (first in the UK), in house Digital 4-Wheel Alignment System, in-house Dual Gas R134a & R12345yf Air Con Machine, huge Screw Compressor with Drier, 2nd professional MIG Welding Plant, amazing Heat Inductor (to remove naked flame use), and to top it off a Main-Dealer DMS (Dealer Management System) Software Package to bring us right up to date.
Then the world was rocked by the COVID-19 pandemic.
We followed the Government's advice and temporarily closed for 3 months to help slow down the spread of the virus.
Upon returning to work (and bringing every staff member back) in June 2020 we hit the ground running and were inundated with emails and phone calls for 'work demand' which had been building up during the Lockdown it seemed.
In the first 2 days of opening the phone lines again we took over 70 phone calls and filled 8 weeks worth of bookings! Our lead time grew to 9 weeks and it was clear we needed to again expand.
In July 2020 we took on another vehicle technician for the workshop: Dan.
Dan is a fully fledged vehicle technician having studied and passed his NVQ Level 2 & 3 in Motor Vehicle Repair. He brings a modern skill set to the business with up to date practices. Dan is already a well valued member of the team who had a great attitude and caring nature. He has a strong desire to do the job correctly first time and is very conscientious when working with customer's prized vehicles.

This takes our full time staff count up to a team of 7.