E63 E64 M6 PAS High Pressure Pipe
As the S85 V10 M5/M6 models age we're noticing common weak points.
One of those weak and potentially risky areas is the PAS HP Pipe
(aka Power Assisted Steering High Pressure Pipe).
It seems to leak PAS oil (CHF 11S) from a restrictor crimp joint around Bank 2 of the engine.
In rare cases it can spectacularly fail and spray PAS oil over the exhaust manifold of Bank 2.
If conditions are right (hot PAS oil and hot exhaust manifold) it seems a fire can occur which although rare has been documented 3 times online.
The most famous one was in 2020 for this poor E61 M5 in the UK: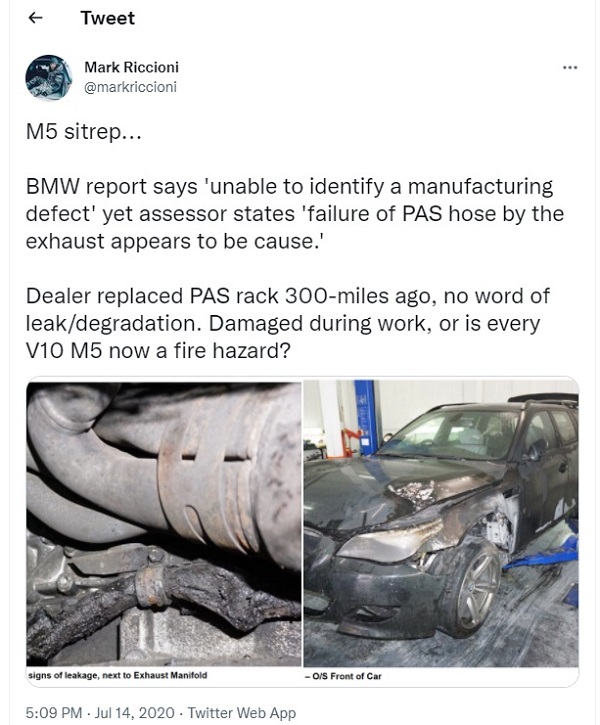 Now, we can't say for sure if the PAS HP Hose was the cause of this fire.
Even BMW's report couldn't determine if the hose had failed causing the fire or if the fire caused the hose failure (chicken & egg situation).
However, we do see a surprising number of V10 PAS HP Hose leaks on this exact same hose in the exact same location.
Over the past 7 S85 Conrod Bearing processes we've carried out, 4 of those M5/M6's have had this hose leaking.
Here's a video of ours showing the location/routing of the PAS HP Pipe and an example of a basic/early leak.
We keep these hoses on site in our Parts Dept as they are a common requirement.
Example Prices:

High Pressure Pipe replaced during the Conrod Bearing work £475 inc Parts/Labour/VAT.

However, if you're also having the Vanos Pipe replaced during Conrod Bearing work it reduces down to £330 inc Parts/Labour/VAT.
Please remember, BMW Parts prices are very volatile currently and are subject to change daily.
Low Pressure Pipe:
There is also another PAS Pipe in this area known as the Low Pressure PAS Pipe which returns fluid from the rack to the cooler.
This one (if required) can be supplied & installed for a separate £230 inc Parts/Labour/VAT.