F10 M5 Conrod Bearings
The F10 M5 is a phenomenal car with an equally impressive V8 twin turbo engine known as the S63.
Following in similar fashion to it's predecessor 'The E60 M5 V10 S85', there are more and more reports of F10 M5 S63 engines having problems with the Conrod Bearings wearing or even failing.
Back in 2019 we developed a procedure to carry out the Conrod Bearing replacement on the F10 M5 S63 engine without taking the engine out of the car, and without taking the engine to pieces (as per BMW's technical instructions tell you too).
We purchased Genuine BMW Conrod Bearings, Conrod Bolts, Sump Gaskets, Oil Filters, O-rings, PAS Fluid, Castrol Engine Oil, and successfully carried out the procedure on a 2013 F10 M5 with 94,000 miles (and a few Nurburgring trips) under it's belt.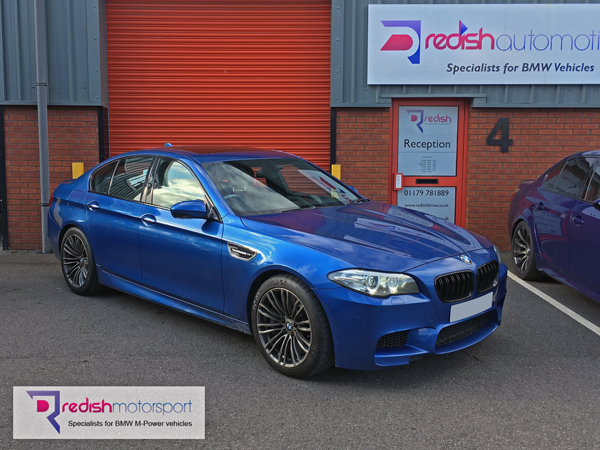 The process was a total success and we've even recorded many of the key stages of the Conrod Bearing repair. These video clips are still being stitched together to make a documentary style video that we'll release on our YouTube Channel very soon. So head over there and make sure you Subscribe to hear about our regular BMW-related video releases including this S63 Conrod Bearing video.
In the mean time we can offer you a set price for this preventative maintenance of:
ACL Conrod Bearing package £2120.
BMW Conrod Bearing package £2475.
Our prices include VAT. and the following items:

Upper Sump Gasket
Lower Sump Gasket
Rear Oil Suction Tube O-ring
Front Oil Suction Tube O-ring
Conrod Bearings (choice of ACL or BMW - see above)
Conrod Bolts
Castrol Edge 5w30 Engine Oil
Genuine BMW Oil Filter Kit
PAS Rack Sealing Rings
PAS Fluid (Pentosin CHF 11S)
All 8x new Conrod Bearing sets are dry-assembled first and measured using the BMW approved Plastigauge to check for the accurate and critical S63 Conrod Bearing clearance of 0.025 - 0.070mm. Only once we've carried out this check and are happy can we continue and install the new Conrod Bearings with the correct amount of lubrication ready for their first ever start.
All measurement data is recorded and provided to the owner along with a set of important pictures showing the work has been carried out.
We also follow BMW's strict and unique S63 'first start' procedure to make sure the oil supply is pumped around the engine and to new components (i.e. Conrod Bearings) before the combustion cycle is started. This ensures the new bearings have oil pressure before the engine starts and therefore give the bearings far longer service life than if they had been dry-started where, according to BMW, the S63 can receive damage in the initial 2 seconds of new component start up.
It goes without saying that if you have been unlucky enough to have suffered a damaged engine either by knocking, or something more severe, talk to us - we posses many Genuine BMW S63 Special Tools, we know these engines very well, and we may be able to offer you guidance, prices, and options on how to repair your S63 at our BMW M Power specialist workshops in Bristol, UK.
We require a £200 deposit to make a booking for this service.
Optional extras:
You now have the option of having James Redish carry out a 15 minute technical video for you. This video is personal to your vehicle and includes your name and registration number plate. It includes technical detail and visuals of an area you're never likely to see again on your vehicle. We record up close and personal to show you the inside of your engine and specifically concentrating on the Crankshaft, Conrods, Bearings, as well as see the underside of pistons, gudgeon pins, conrod bolts, and your old conrod bearings. The main highlights of the video are the Plastigauge measuring process to ensure the oil clearance is within the BMW tolerance. As well as an overview and discussion regarding the wear on your old bearings (which you get to take home with you). The video package we offer is not mandatory and is offered at an optional cost of £90 inc VAT.
This additional service must be requested at the time of your booking.
See example video below of what you can expect:
Please note we can only carry out Rod Bearing work for OEM vehicles with BMW engine software.
(That means if your engine has been remapped we cannot offer the rod bearing work).
Also, if you have rod bearing work with us and then go on to remap your engine it will void any parts/labour warranty.
This is because the Conrods inside the S63 engine are actually N63 Conrods (part number 11247843237) which is just about OK as the S63 has approx 80nm more torque than a N63:
The risk comes when the S63 engine is tuned (Stage 1 / Stage 2 / Stage 3) as the torque increases significantly whilst the engine internals are still original.
The N63 (F10 550i) has 600nm Torque.
The S63 (F10 M5) has 680nm Torque.
The S63 (Stage 1) has 800nm Torque.
The S63 (Stage 2) has 900nm Torque.
Asking up to 50% power to go through the N63 Conrod is where it goes wrong.
The Conrods bend and can make contact with the Crankshaft Counterweights.
Watch our video below where we found this issue on a Stage 2 F10 M5 with 74k.
Ask us how we know.......
(We've carried out a few engine rebuilds on F10 M5 S63's due to OEM bent Conrods):


If you would like to discuss your options for the BMW F10 M5 S63 Conrod Bearing work please Contact Us and we'll be happy to help you.