Z3 M Coupe / M Roadster Sill Restoration
Now that the average M Coupe and M Roadster are 20-25 years old, naturally they can suffer with corrosion underneath.
The most common area we regularly see corrosion growing in is the Z3 Sills & Jacking Points.
The Z3 chassis has 2 Sill Panels:
Outer Sill Panel (bolted, body-colour, available to purchase from BMW).
Inner Sill Panel (welded, E-coat-colour, not available).
Both can suffer with corrosion.
The Outer Sill Panel suffers first as it's the thinnest of the two at approx 1.0mm thick.
Whereas the Inner Sill Panel still suffers corrosion but is thicker at approx 2.0mm thick.
Most of the time corrosion isn't very obvious because the Outer Sill Panels hide the real area of concern: the Inner Sill Panels.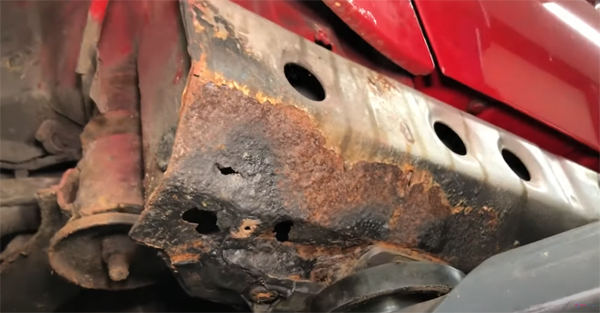 The Front Sills & Jacking Points are directly behind the front wheels and in the line of fire for being pummeled with a lifetime of grit, stones, water, salt and anything else which is on the road.
The Rear Sills & Jacking Points fair a little better from the weather but are very susceptible to damage from incorrect jacking and lifting of the vehicle over the years.
It doesn't take much force for a trolley jack or MOT test lane's jacking beam to mark or break through the factory seam sealer.
That then allows weather (even dry day usage will have moisture in the air) to reach the steel of the chassis and allow corrosion to develop.
If untreated this can get to quite a shocking state. (See the video example below).
Over the years, we've been brought some pretty scary sill corrosion.
Just take a look at this 1999 M Coupe which most workshops would have turned away.
This is just a 1 minute example showing what we found. A full video documentary was recorded and will be listed on our YouTube channel and website soon:
Unfortunately, the Inner Sill Panels are No Longer Available from BMW, so skilled fabrication is required to reconstruct factory panels which aren't available.
This is labour intensive.
We offer a better-than-factory Sill & Jacking Point Restoration.
It includes removing both left & right bolted Outer Sill Panels.
Removing all factory seam sealer and E-coating, as well as the loose corrosion found.
(If deep corrosion in the metal grain, or holes in the sill, are present we may need to cut out sections of the sill and fabricate new pieces to be expertly welded in).
Then treating all bare metal with POR-15 Metal Prep, then applying a Graphene Etch Primer, then a High Build Primer.
Then it's on to a brushable seam sealer to bulk up and replace any factory removed seam sealer.
Then we apply our OEM style sprayable seam sealer which recreates that factory textured appearance.
This is followed up by E-coat and also body-coloured base paints to further enhance the finished appearance and make it appear as original as possible.
An extensive Cavity Waxing process is carried out in all the internal sills and cavities and box sections to ensure the best chance of a corrosion free future.
Finally, we install 2x brand new Genuine BMW Outer Sill Panels (painted in the factory colour with the correct corrosion stone chip line included) along with new BMW Jacking Pads, fixings, nuts, bolts, clips, and grommets.


Even low mileage extremely tidy examples can suffer Sill & Jacking Point corrosion.
Watch us solve the corrosion and rust issue on the Sills of this 44k M Coupe:


This style of repair executed to the best possible factory standards starts around £3,000.

If you are interested in this type of work for your M Coupe or M Roadster, please feel free to call us to discuss.
Due to this process being very popular, it's common place for us to have 6+ month lead time.
To make a booking with us, we require a £500 deposit at the point of booking.