Redish Motorsport E46 V2 RACP Reinforcement Plate Kit

STILL SHIPPING DURING CORONAVIRUS COVID-19
Updated: 04-10-21
We have plenty of stock at the moment and are monitoring your orders daily.
UPS are still accepting worldwide shipments and proving to be very reliable at this time.
(James Redish is personally processing and shipping all orders during this time).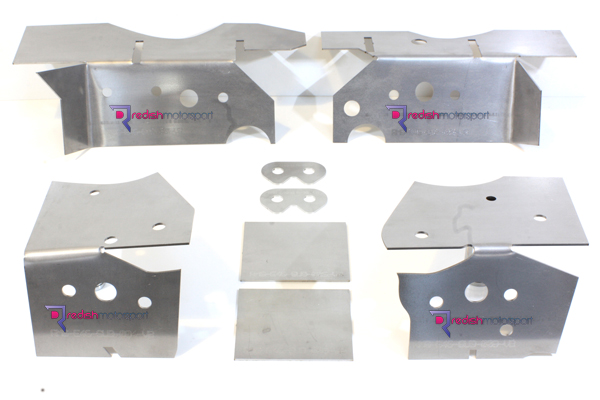 Inside UK - £145 delivered 1-2 days typical transit time
Outside UK - £145 delivered 4-8 days typical transit time
To make a purchase:
Please use our PayPal Button above
(you MUST add your local telephone number in the text bar otherwise the courier UPS will not accept your package).
Check all our recent worldwide sales here on our Instagram page:
www.instagram.com/redish_motorsport


If you have any questions please email info@redish-motorsport.com with the following details and then your question:
Full name
Delivery address including country
Zip/Post code
Local Phone Number
Exact Model of E46 including production year
We ship to worldwide destinations daily using UPS.
Buy from Redish Motorsport and you'll be sure to receive a genuine Redish Motorsport E46 V2 Rear Subframe Reinforcement Plate Kit with the RMS part numbers.
PLEASE NOTE:
We do NOT sell our Redish Motorsport kits via eBay.
The ONLY way to buy a Genuine Redish Motorsport Kit is here via our website.
If you have any doubt to a Genuine Redish Motorsport Kit please feel free to contact us on info@redish-motorsport.com and we'll be happy to help you.
"I don't care that they stole my idea ...... I care that they don't have any of their own"
Nikola Tesla
-------------------------------------------------------------------------------------------------------------------
Buying direct from us the original manufacturer ensures you receive a genuine Redish kit.
Redish Motorsport has developed a kit to offer a cost effective long term solution to the well-documented problem of floor / subframe cracking which the BMW E46 3-series (and M3) suffers from.

The Redish-Motorsport-E46-V2-RACP-Reinforcement-Plate-Kit has been designed to provide the best repair and reinforcement option (apart from a new Rear Axle Carrier Panel from BMW) available on the market to date, regardless of crack damage*, age, mileage, service history, or modifications made.
Our kits have been installed consistently in our workshop since 2012 (9 years now), and out in the public domain and purchased and loved worldwide.
Fitment feedback has been 100% positive with great reviews from customer and other workshops using our precision made reinforcement plate kit.
Our E46 reinforcement plate kits are purchased by owners, repair workshops/garages, bodyshops, chassis builders, and even BMW approved bodyshop.
We are proud to state that our kits are sold worldwide, and have been sent to 6 of the 7 continents (North America, South America Europe, Asia, Africa, and Australia).
Some of the popular countries / sates include:
North America:
Virginia
New Mexico
Texas
Oregon
California
Colorado
Illinois
Pennsylvania
Hawaii
South Carolina
New York
Washington
Massachusetts
Oklahoma
Canada
Europe:
UK mainland
Ireland
Spain
Italy
Belgium
Belarus
Portugal
Norway
Asia:
Dubai - United Arab Emirates
Cyprus
Turkey
Africa:
Australasia:
Adelaide - South Australia
Melbourne - Victoria
Sydney - New South Wales
Brisbane - Queensland
Auckland - New Zealand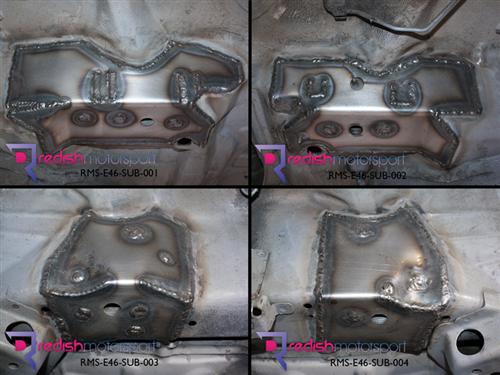 --------------------------------------------------------------------------------------------------------------------
What's included?
8 piece Reinforcement Plate Kit - all part numbered and tailored for the E46 chassis
Instructions - 16 pages, pictures, masses of text and pictures, torque settings
Hand check of every plate on our genuine BMW Rear Axle Carrier Panel before ship
Personal service from Redish Motorsport, email contact, support, live tracking details
Installation support (should you or your installer have any questions) phone or email
--------------------------------------------------------------------------------------------------------------------

Here's a recent HD video on YouTube showing our new V2 reinforcement plate kit:
Development History:
Redish Motorsport have been repairing and reinforcing BMW floor's for years now.
It started with the E36 where we completely rebuilt the OSF rear subframe threaded mount after it was quite literally torn out of the floor pan on a 1992 325i.
Since then we've been mainly repairing & reinforcing E46 M3's (although we still get E36 non M3's requiring the E36 OEM plates from time to time).
One day we were faced with repairing this 2001 M3 manual coupe with 72,000 miles!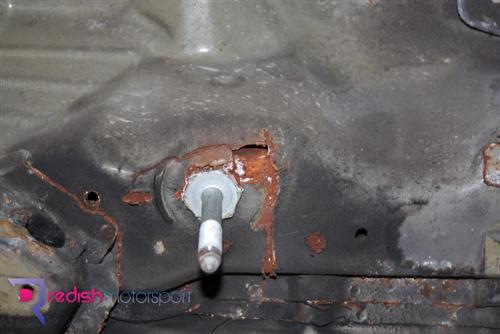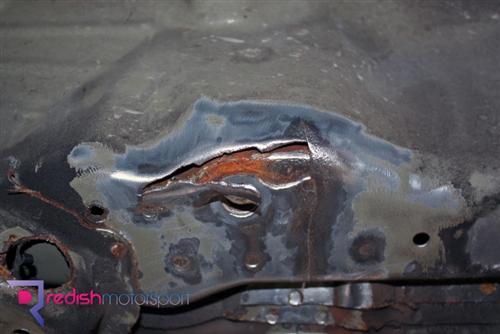 Up until then, we were using reinforcement plates from the USA (like everyone else was).
As you can see, they didn't cover the damage on this M3: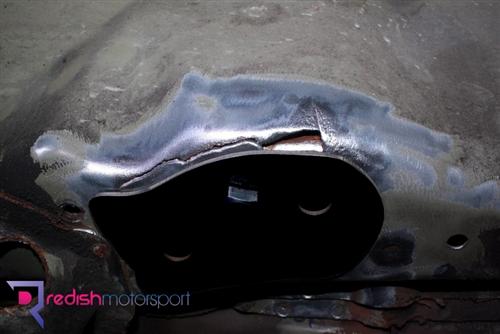 Nor did the NSR plate cover the hairline crack on this car (outlined in red):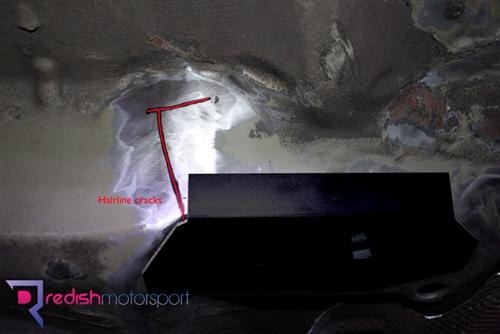 So we set about designing and producing our own reinforcement plate kit for cars like this one with moderate damage/cracking.
We purchased a brand new floor panel (Rear Axle Carrier Panel - 41.11.8.000.246) from BMW and carried out drawing, templates, CAD models, laser cut prototype plates, stress analysis, engineering consultancy, and 3 incarnations spanned several months work to perfect our Redish Reinforcement Plate Kit you see today.
Product testing started in house with the introduction of our Redish Reinforcement Plate Kit to our popular Repair & Reinforcement Service - featured in Performance BMW Magazine (May 2013 issue). and DriveTribe April 2017.
We then selected 2 close and trusted workshops to test our kit and give us some 'outside' feedback. Needless to say, they were greatly surprised with our accuracy achieved not only in the line up of all holes for stud mounting and plug welding but also the folding process.
Since then they've been sold to customers all over the world and over 400 Redish Subframe Plate Kits have been sold worldwide with another 110 fitted in our workshop in the UK.
The Redish Motorsport E46 Rear Subframe Reinforcement Plate Kit consists of 8 individual plates, part numbered and tailored to specific locations on the E46's chassis:
RMS-E46-SUB-001-V2
Qty.1
Located at the NSR Differential carrier mounting location.
This is the most problematic location and the area where most cracks and even material separation is found.
RMS-E46-SUB-002-V2
Qty.1
Designed specifically to follow the contours of the OSR subframe Differential carrier location face/area.
RMS-E46-SUB-003-V2
Qty.1
For use at the OSF Differential carrier location face/area. This is the other major problem area on the subframe panel and where cracking is again most common.
This plate has been designed to dramatically strengthen the OSF location face, spreading the torque loading and unloading over a far greater area, of a stronger material to the original subframe panel.
RMS-E46-SUB-004-V2
Qty.1
Tailored to fit the NSF Differential carrier location face/area.
RMS-E46-SUB-005-V2
Qty.2
Included in the kit but fitted optionally (mainly governed by model year - normally only used on build dates UP TO February 2000).
They allow the boot floor to be cut from inside the rear of the vehicle to gain access to the internal bracing of the subframe and allow rosette welding of the internal upper features. These plates are used to 'cap' the access holes you've cut in the boot floor.
RMS-E46-SUB-006-V2
Qty.2
Spacer plates to accommodate the change in the floor thickness. They ensure seamless fitment of the Differential carrier. They are not a structural part (just a spacer) and therefore can be bonded or welded in place.