E46 M3 Inspection 2 Service
The Redish Motorsport E46 M3 Inspection 2 Service (which is widely recognised as the most comprehensive on offer in the UK): £985.

Introduction:
Having worked and trained at a BMW Main Dealer (Wellsway, Bath) for the 6 years of 2001-2006 (spanning over the entire E46 M3 production/delivery) James Redish set his standards extremely high when building Redish Motorsport and especially his trademark Inspection 2 Services.

This means as a company Redish Motorsport strictly follow and always adhere to BMW service schedules and repair instructions whilst using BMW Special Tools and predominantly Genuine BMW Parts.

Protection:
First of all the vehicle receives it's protective internal coverings:
Genuine BMW Seat Cover
Genuine BMW Gearknob Cover
Genuine BMW Handbrake Cover
Premium Steering Wheel Cover
Premium Double-Size Floor Mat Cover: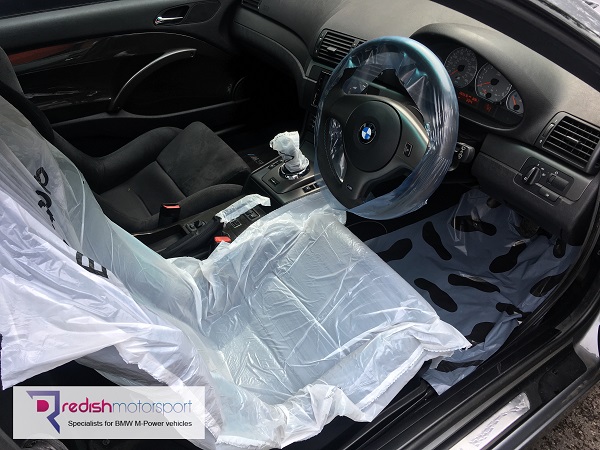 Pre service checks:
Once in the workshop we use BMW Diagnostic Software to check the live-data of the engine's temperature to see if it's below BMW's specified value of 35'c to be able to carry out the Valve Clearance Process (more on this below).
We will also check your service book and service counter (on the cluster) to see if the M3 is due the separate service BMW call the 'Annual Service' which entails either the Brake Fluid Change (every 2 years) or Coolant/Antifreeze Change (every 3 years), or both.
Initial paperwork:
We then print out a date stamped 'Inspection 2 Service Check Sheet' from a BMW system using your unique M3 chassis number.
This is a 3 page document which details everything which has to be done/replaced/checked on the M3 Inspection 2 Service.
We follow this meticulously and once all items have been completed and ticked, this paperwork is handed to you to keep for your M3 service records.
Main Worklist:
The following items are carried out during our Redish Motorsport E46 M3 Insp 2:
Castrol Edge Supercar 10w60 M-Power Engine Oil
Genuine BMW Oil Filter Kit
OE BMW Pollen Filter
Genuine BMW Spark Plugs (DCPR8EKP)
OE BMW Air Filter
Valve Clearance Process (Any shims required charged additionally).
Castrol Syntrans B 75W Gearbox Oil (MTF-LT3)
Castrol Syntrax 75w140 LS Diff Oil (SAF-XJ)
Redline FM Booster LS Diff Additive
Genuine BMW Diff Filler & Drain Bolts
Comprehensive Vehicle Inspection
Advisory Report
Comprehensive Video of our findings
Digital Picture Pack of key points of the service
Service Book stamped
Service Mileage reset
Valve Clearances:
We like to strongly promote that the M3 S54 Valve Clearances are checked and adjusted at every Redish Motorsport Inspection Service.
Even today in 2022 we read and hear all sorts of horror stories regarding other specialists and even main dealers just 'listening' to the engine to decide if they need adjusting, or carrying out the process but offering no paperwork, no invoice for shims, and no pictures, or even worse trying to talk the owner out of the valve clearance aspect (laziness) and offering to reduce the service costs accordingly!

On the contrary Redish Motorsport go so far to proving we carry out this crucial practice that we always take a digital picture of your engine 'open' with our BMW Special Tools laid out, and your Reg No. visible.
This not only gives you peace of mind the process
has
been carried out, but adds great value to the M3's important history records.
We have over 120x brand new Genuine BMW S54 Valve Shims in stock at Redish Motorsport all organised and presented in the Genuine BMW Blue Special Storage Metal Case.
Should we find any of your 24 valve shims which are out of BMW's specified tolerance of Inlet 0.18mm - 0.23mm and Exhaust 0.28mm - 0.33mm then we will replace them during the process.
This makes it very convenient as you don't have to come back to us for a separate visit, nor leave your M3 with us whilst parts are ordered into stock (like the main dealers usually do).
We are true M3 specialists and therefore cater for every eventuality.
After all, we've carried out over 180x S54 Inspection 2 Services in the past 10 years - so it's safe to say we've honed our procedure to be as smooth, comprehensive, and professional as possible.
We don't charge you any additional labour for changing valve shims.
We only charge for any new valve shims IF you need them.

These are priced at just £3 plus VAT each from BMW and there's a maximum of 24 in your M3's S54 engine - which means at the worst case scenario an additional £72 in shims (if you require all 24 replacing) but that's extremely rare.
An extra 'Vanos' check that we do free of charge:
During the Redish Motorsport M3 Inspection 2 Service, we also carry out a very important check which isn't on the BMW Inspection 2 Service Sheet.
We check (and if necessary advise on):
Exhaust Camshaft Hub (Vanos Drive Pegs can be found snapped)
Pictures:
You also receive 12 pictures
of key stages of the service which are listed below:
Picture of the M3 in the workshop lifted in the air on a workshop lift
Picture of the new service parts to be used
Picture of the old engine oil draining out
Picture of the oil gearbox oil draining out
Picture of the old diff oil draining out
Picture of the new diff plugs installed and paint marked
Picture of the new engine oil & filter kit laid out in the engine bay
Picture of the air filter comparisons (old v new)
Picture of the valve clearance procedure with reg no. visible
Picture of the spark plug comparisons (old v new)
Picture of the Pollen Filter comparisons (old v new)
Picture of the M3 parked outside the Redish Motorsport building
Video option:
You now have the option of having James Redish carry out a video for you. This video is personal to your vehicle and includes your name and registration number plate. It includes technical detail and visuals of the underside of the vehicle in high detail: an area you don't often get to see.
We record up close and personal to show you the inside of your engine and specifically concentrating on the Crankshaft, Conrods, Bearings, as well as see the underside of pistons, gudgeon pins, conrod bolts, and your old conrod bearings. The main highlights of the video are the Plastigauge measuring process to ensure the oil clearance is within the BMW tolerance. As well as an overview and discussion regarding the wear on your old bearings (which you get to take home with you). The video package we offer is not mandatory and is offered at an optional cost of £90 inc VAT.
This additional service must be requested at the time of your booking.
See example video below of what you can expect:
You will also receive a personalised video approx 10 mins long
showing the condition of the underside and mechanical workings of your M3, as well as any advisory items that might need recording for your future reference.
Timescale:
This work can be carried out in 1 day, BUT we do need to carry out the Valve Clearance process when the engine is at or below 35'c (as shown in the BMW Technical Instructions).
So this can either be achieved by dropping your M3 off to us the day before the work is due to commence, or by arriving early on the day of work around 7-8am.
This allows the engine to cool naturally during the morning and usually by lunch (in winter months) or early afternoon (in summer months) the engine is below 35'c (checked using BMW live data diagnostics) so that Valve Clearances can be completed accurately.
Optional upgrades/extras available:
During this service work, we offer the following extra items for the discounted rates listed
Engine Compression Test Report £48.
Vanos Test Report £24.


Annual Service:
As mentioned above, if you do require BMW's so-called 'Annual Service' then these are separate service items which are listed in a separate part of your Service Book, with a separate Service Light on the dash (clock symbol), and therefore are charged separately too.
You may not need these, but if you do then our prices are listed below:
Brake Fluid Service and full system bleed using Genuine BMW Brake Fluid £79.
Coolant Service and system bleed using Genuine BMW Antifreeze £85.
(You can also upgrade from BMW Brake Fluid to ATE Typ 200 Brake Fluid for £15).
Paperwork:
You will receive an extensive amount of paperwork for this Inspection 2 Service.
We provide you with the following printed paperwork to take away and including in your M3's History Folder:
BMW E46 M3 Inspection 2 Service Check Sheet (unique to your chassis no.)

Valve Clearance Report with all measured (and any replaced) clearances

Advisory Report (things to consider for the future)

Invoice (detailed will all works carried out and on headed colour paper)
Reminders for you before you bring your M3 to us:
Please check the following items are present in your car before you bring your M3 to us:
Service Book
Locking Wheel Bolt Key
Any other previous history which you feel may be useful/important
Next Steps:
If you would like to discuss the M3 Inspection 2 Service further, or make a booking, please feel free to call us on 01179 781889 and we'll be more than happy to answer any questions you may have or help you find a suitable booking appointment.
Please note, we do require a £100 deposit at the point of booking.